Cinda Lark
Owner, E-RYT 200, E-RYT 500, LOAY 800
Cinda's passion for yoga began when she took her first class. She felt immediately at home with the physical practice of Vinyasa Yoga, having been a gymnast, dancer and diver. She soon realized there was so much more, a mindful and spiritual side that came as a pleasant surprise and affected her life in a truly positive way almost immediately. This practice not only became a vital part of her soul but her desire to share what she was learning inspired her to enter a local teacher training with Andrea von Behren where she received her 200 hour training. She opened Evolve Yoga (formerly Breathe) in 2011 and began a career with her passion for yoga as well as sharing. Craving to know more about this ancient philosophy, and knowing somehow that the guru Sri Dharma Mittra in New York City was the actual key, she went off to take her 500 hour training in 2015 and her 800 hour in 2017. Finding her guru showed her the deep connection to both hatha and raja yoga that she had been searching for, answered endless questions about life and the ways of the universe and she found her sanctuary there. 
Although Cinda teaches a variety of yoga at Evolve Yoga so that everyone can find a practice that serves them, Dharma Yoga is woven throughout each and every class. From the grace and fluidity of Vinyasa and Slowflow Yoga, the alignment and foundational work Hatha and Gentle Hatha to Yin, playful Partner Yoga, SUP Yoga, and her favorite, Dharma Yoga, there is something just for you. There are numerous special workshops available throughout the year. Cinda's teaching is playful, challenging & amazingly supportive. She will tell you, yoga is foundational for our lives. It helps us to find peace and calm in a very tumultuous world where it is all too easy to become overwhelmed. 
Cinda owns Evolve Yoga in Keego Harbor where you can find these offerings as well as a 200 Hour Yoga Alliance registered teacher training program she feels is one of the most thorough trainings you could find. She is also a degreed Graphic Designer and Photographer. She practices Reike and Psychic Development privately. She is a mother to two teenagers and is grateful everyday for her gifts. Cinda also owns Evolve Juice & Smoothie Bar a few doors down from her studio that offers organic, vegan, cold-pressed juice, smoothies and bowls, and will be re-opening February 2023!
Lori Shoha
Lori had been practicing yoga for 15 years before she decided to take Cinda's 300 hour teacher training course. With her two children mostly grown, there was finally time to pursue this dream. The main goal was to deepen her practice and learn to quiet her very busy mind, but she quickly found that she had a passion for teaching.
Lori is an obstetrician/gynecologist and has incorporated yoga into her medical practice; teaching relaxing breathing as well as certain yoga postures to relieve back pain in her pregnant patients. Look for a prenatal class soon at Evolve!
In her spare time, Lori enjoys knitting, water skiing, and watercolor painting. Check out her paintings of fellow yoga students for sale at Evolve Juice! Music is a huge part of her life and she really enjoys putting together playlists to accompany her classes.
Linda Hawkins
Linda has been on the move all of her life with interests such as water skiing, snow skiing, ice hockey, strength training, biking, backpacking with an occasional asana class thrown in at the gym. While searching for some balance in life and health, Linda found Evolve Yoga. She started with a partner yoga class, loved it and dove right in, grasping for everything yoga had to offer! Linda became a certified yoga instructor though Cinda's 200 hour YTT course in December, 2018. Yoga has brought Linda a new perspective on life and she loves to share it with others!
Shae Heusinkveld
Shae completed her Yoga Teacher Training at Evolve in 2018 after finding something special there. She loves being at the studio and always looks forward to the great energy that the students bring to every class. There is no bigger cheerleader and if you happen be in a class taught by her or with her on her mat, she's the one clapping for you when you do something new or find a pose for the first time! She is inspired by the students who come to Evolve and finds joy in teaching them and sharing the practice she loves! She enjoys traveling and spending time with friends and family.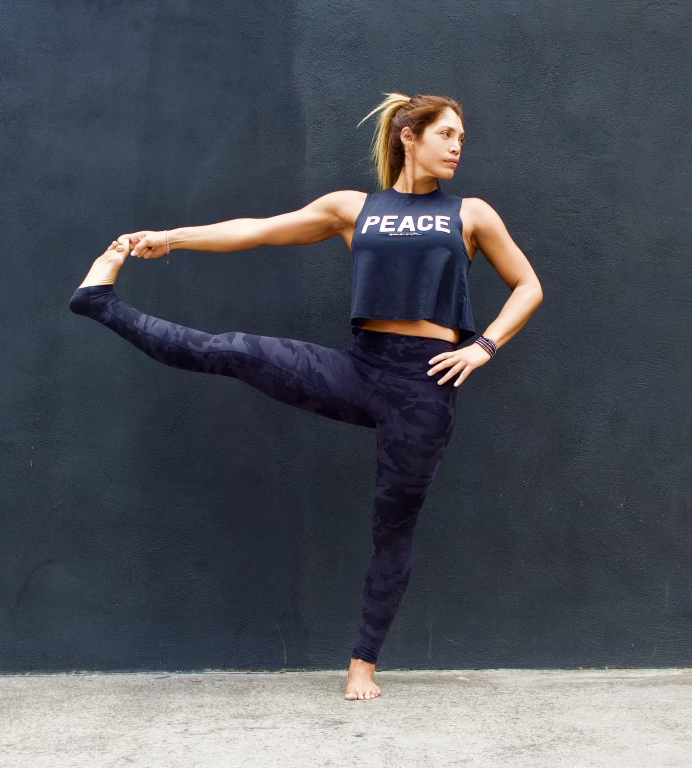 Claudia Guerrero
Claudia Guerrero ERYT-200, YACEP.
Claudia believes that a good teacher is the one who can help you find the true teacher within, because we already have the insight. Her mission is to help each student find their own practice and develop their knowledge. She has a passion for teaching and practicing yoga and loves to help students discover what practice suits them best.
Claudia has been practicing yoga for over 15 years and has 10 years of teaching experience. She has a broad range and depth of knowledge including 200hrs YTT Vinyasa, 200hrs YTT Ashtanga and 400hrs YTT Parayoga, Kest Yoga 300hrs YTT with teachers such as Ellen de Jonge, Michael Gannon, Rod Stryker and Jonny Kest.
Claudia currently teaches Ashtanga and shares the practice in a traditional way, she also teaches Vinyasa, Yin Yoga and Hatha Yoga. Her classes are fun, inspirational and challenging which will positively impact her students life.
Jennifer Bracken
I found yoga just over 20 years ago after I suffered a traumatic spinal cord injury. I was very blessed to have walked away from that experience; only centimeters away from becoming a quadriplegic. I was a young teenager trying to recover and overcome a huge challenge. I knew my body needed to get stronger, and this trauma needed to heal. I began my practice using intuition and trusting my body, and I learned the basics on my own. I learned that the breath can get you through just about anything life hands you. It wasn't until I started practicing at Evolve and went through my 300-hour YTT, that I realized just how beautiful and profound this practice of yoga can be. I was missing something, and I've found it through training, through a deeper understanding of my own practice and through teaching. I always knew I wanted to be a yoga teacher to share what I had learned, and am beyond grateful I finally had the opportunity to learn under Cinda's instruction. I truly feel I have learned from one of the best. She has not only taught me the different styles of yoga asana, but she has also opened my eyes to the spirituality that my heart was craving. I am the mother of two wonderful kiddos. A homemaker for my husband and children.
Jim Stout
James brings a balance of intensity and ease to his classes. Finding his inspiration through the practice of Ashtanga, VInyasa and Slow flow several years ago, he became a teacher in 2009 with Jonny Kest, and has since been teaching on a regular basis. He brings a compassionate yet disciplined approach to create freedom, well-being, and the ability to live more authentically in the moment, providing a strong foundation for facing the challenges in life.
What to expect in class? Breath-based, creative flows designed to open the body in a heated space. Structurally sound sequencing and postures adaptable to any level of physical ability.
Brandi Dearth Vander Eyk
Brandi is an E-RYT 200 with over a decade of teaching experience in Michigan. She has a multi-faceted background in Ashtanga, Vinyasa, Slow Flow and Yin Yoga classes.
She believes whole heartedly that yoga is for everyone and everyone is welcome. She brings a sense of fun and energy to her classes with big music and creative flows. Classes will offer students various challenges, but all modifications and opportunities for rest are embraced and encouraged.​
Jamie Kayla
If Jamie looks familiar, it's because she spends as much time as she can at Evolve. Jamie found Evolve over 10 years ago and has had a dedicated practice there ever since. Yoga has helped her through PA school and many a personal challenge, providing a source of both comfort and strength. It has changed her outlook on life in ways she never thought possible and greatly shaped the person she is today. Jamie recently completed her 200 hour training with Cinda in April, 2018, which deeply fulfilled a longtime desire of hers to deepen her practice and expand her knowledge of what has become such a source of joy in her life. She is a Physician Assistant in the Emergency Department, and is so grateful for the balance yoga provides in her otherwise fast-paced life.